Digitization, automation and transformation are impacting every industry, disrupting skills and creating new jobs. Manufacturing is the vanguard, with new roles appearing as fast as others become obsolete.
Manufacturers are reporting growing talent shortages as they struggle to find the right blend of technical and soft skills to fill new positions. The catalyst for the early stages of this skills shift was automation – machine strength. Now sectorwide transformation has been turbocharged by the Internet of Things, the digitally connected enterprise, the relentless expansion of data and Artificial Intelligence (AI) to handle the scope of the challenge – machine thinking
To find practical solutions to this skills shortage and ensure up to 2 million new manufacturing jobs do not go unfilled,1 ManpowerGroup and MxD convened more than 30 academic, government and industry partners including Siemens, Microsoft, Caterpillar and General Electric to create an industry-recognized taxonomy that defines digital manufacturing roles of the future. The groundbreaking workforce analysis, developed in partnership with MxD (formerly the Digital Manufacturing and Design Innovation Institute) provides the first taxonomy of its kind, utlining skills and roles of the future and serving as a practical toolkit for manufacturing organizations.
THE IMPACT OF TRANSFORMATION ON THE MANUFACTURING ORGANIZATION
Almost half of all roles in manufacturing (49%) will need to change within the next three-to-five years as the industry transitions to become fully digital. Our workforce analysis identified 165 new and evolving roles across seven areas of technical expertise — what we refer to as "domains." We also examined the skills, tools and areas of knowledge that boost individual careers, company performance and add value. The evolution of roles is both diverse and significant – future roles are wide-ranging and varied: Service Technician, Predictive Maintenance Specialist, Robotics Engineer, Data Architect, Product Designer, Digital Manufacturing Manager, Supply Chain Strategist, Agile Project Manager, Digital Twin Architect, Digital Thread Program Manager, Application Developer, Data Scientist, Community of Practice Manager, Technical Trainer, C-Level Officer, Knowledge Curator and Ethicist. Each job in the advanced manufacturing industry supports between three and five additional jobs in the supply network. The impact of transformation differs for each domain with the greatest shift occurring between the shop floor and the Digital Manufacturing domain — 28% of the 165 new or evolved roles are in this domain.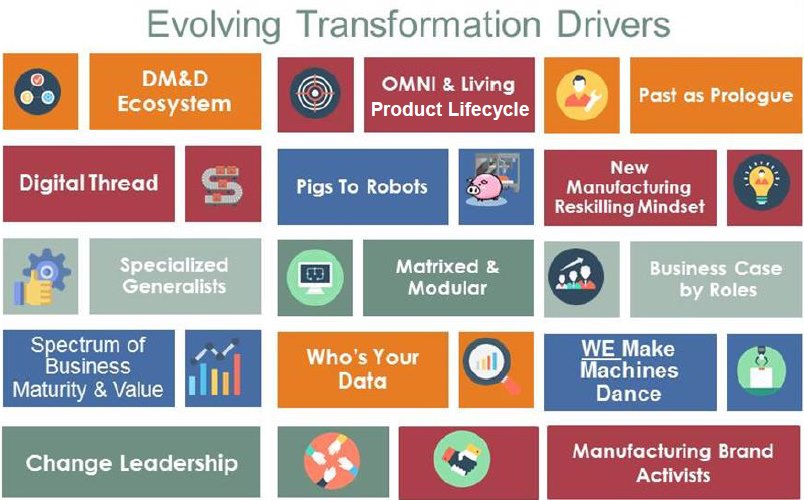 KEY Takeaways
1. Digital transformation requires new skills, new roles and new approaches to leadership.
2. Companies need new approaches to upskill people at speed and at scale to develop the talent they need to remain competitive.
3. The right blend of technology, people and skills is key.
About research & Read more
You can read this whole research and its impact on the future of work enviroment. Just see the documents listed below.
Downloads